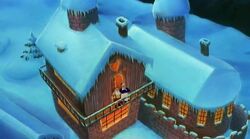 Santa Claus's house is a location in the 1998 film Rudolph the Red-Nosed Reindeer: The Movie and is the home of Santa and his wife Mrs. Claus.
It is shown to have a living room with a fireplace and a large room with a fireplace too, a desk and chair and a Christmas Tree. Across from it is a building where Santa's sleigh is stored.
It first appears at the start of the film when Santa and Mrs. Claus watch the Sprites of the Northern Lights performing a light show in celebration of Rudolph's birth.
It next appears briefly a year later when Santa and the Flyers prepare to take off during The Christmas Eve Launch.
A few years later, Blitzen, his wife Mitzi and the mother and father of Zoey come to the house to ask help from Santa to look for Rudolph and Zoey. Later on Christmas Eve, many of the villagers are there when Santa announces that due to the storm (which was cast by Stormella after Zoey crosses her bridge to look for Rudolph), he wil have to cancel The Christmas Eve Launch but exit when they see the light of Rudolph's nose in the distance.
It is last seen the next day on Christmas Day where Santa and the other villagers celebrate Rudolph saving Christmas after using his nose's light to help Santa and the Flyers get through the storm.
Residents
Edit