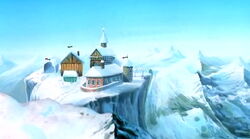 Santa's Workshop is a location in Rudolph the Red-Nosed Reindeer: The Movie. It is where the toys Santa Claus's delivers on Christmas Eve are made. It is co-joined with Santa's house.
It also leads into where Santa's sleigh is stored, so the elves can place toys in there. The workshop also has a train station from which elves place candy in.
Appearances
Edit
The workshop appears twice in the film.
The first time is when Blitzen and Mitzi show their newborn son Rudolph around it where the elves sing Christmas Town. However, the fun atmosphere is halted when Stormella arrives demanding to know which of the elves destroyed her Ice Garden, producing a hat as evidence.
Santa asks for the ones responsible to step forward to which Boone and Doggle do (as they had crashed into the ice garden after they lost control of their snowmobile when crossing Stormella's bridge). The elves plead with Santa to not hand them over to Stormella, saying what happened was an accident. When Santa refuses to hand over the two elves to Stormella, she closes her bridge to the public and says that if anyone crosses it, she will cast a storm.
The workshop's second and final appearance comes a year later when Santa and Rudolph walk through it during the song Santa's Family.
The workshop appears in this midquel book to the film, where a young Rudolph is given a tour of the workshop by Santa and sees the elves making toys for Christmas.
Known Workers
Edit
Known Visitors
Edit