Dasher
is a character in
Rudolph the Red-Nosed Reindeer: The Movie
. He is the brother of
Blitzen
,
Comet
, and
Cupid
, the brother-in-law of
Mitzi
, the uncle of
Rudolph
and
Arrow
, and one of
Santa
's
Flyers
.
Appearances
Edit
Dasher first appears along with Comet and Cupid meeting up with their brother Blitzen and his wife Mitzi, who are showing their son Rudolph around Santa's Village. After Rudolph's nose lights up, Dasher joins in with What About His Nose and along with the other villagers, laughs at Rudolph causing Blitzen and Mitzi to take their rather confused son away.
He later appears a year later along with the other Flyers on Christmas Eve guiding Santa Claus's sleigh into the sky to deliver gifts to the children of the world whilst being watched by Rudolph and the other villagers at The Christmas Eve Launch.
Years later, after Rudolph ran away, Dasher along with the other reindeer and elves probably felt guilty for the way he acted towards his nephew.
Dasher last appears, once again on Christmas Eve along with the other Flyers guiding Santa's sleigh into the sky, this time joined by Rudolph who uses his nose's light to help them get through Stormella's storm.
In this book (which takes place after the film), Dasher along with Santa and the other Flyers, goes to search for the Sprites of the Northern Lights after they failed to show up at the winter celebrations to perform their light show.
Description
Edit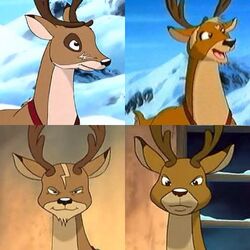 Dasher has light brown and cream fur with black tipped ears with brown eyes. Like all Flyers he wears a Medal of Valor.
Dasher like his brothers Blitzen and Comet, has light fur, though it's slightly darker than theirs.
For reasons unknown, Dasher isn't seen attending The Junior Reindeer Games leaving it unknown whether he would have supported Rudolph or joined Cupid and Comet in joining Arrow after he was made winner by default of the Sleigh Race.
Community content is available under
CC-BY-SA
unless otherwise noted.