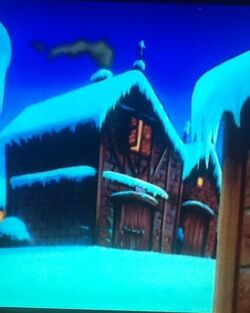 Blitzen's house is a building that features in Rudolph the Red-Nosed Reindeer: The Movie and it's sequel book Rudolph Saves The Sprites. It is the home of Blitzen, his mate Mitzi and their son Rudolph.
Appearances
Edit
It first appears at the start of the film when the Sprites of the Northern Lights go there and watch Blitzen and Mitzi with a newborn Rudolph who takes his first steps and tumbles into a hay bale. He emerges unhurt but let's out a sneeze and his nose lights up.
It next appears years later, where a now teenage Rudolph packs his bag pack and leaves home. Later that night, Blitzen and Mitzi return home and find a note from Rudolph telling them, he left.
The house appears briefly in the book, where Rudolph and Mitzi are there when Blitzen returns after he, Santa and the other Flyers were unable to find the missing Sprites.
Desciption
Edit
In the house, there are beds, a wooden tub of water, a clock hanging on the wall and a mantelpiece with a trophy with Blitzen's name on it with a photograph of him and Santa above it.
Residents
Edit
Community content is available under
CC-BY-SA
unless otherwise noted.