Arrow's mother
[[

|250px]]


Gender

Female

Species

Reindeer

Eye Colour

Brown

Fur Colour

Brown

Home

Family

Cupid (husband)
Arrow (son)
Blitzen, Comet and Dasher (brothers-in-law)
Rudolph (nephew)
Arrow's mother is the wife of Cupid, the mother of Arrow, the sister-in-law of Blitzen, Comet, Dasher and Mitzi, the aunt by marriage of Rudolph and a minor character in the 1998 film Rudolph the Red-Nosed Reindeer: The Movie.
Rudolph the Red-Nosed Reindeer: The MovieEdit
She makes her only appearance at The Christmas Eve Launch where she, her son Arrow and the other villagers watch her husband and the other Flyers guide Santa Claus's sleigh into the sky to deliver gifts to the children of the world.
Appearance
Edit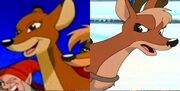 Arrow's mother has brown and cream fur, black tipped ears and brown eyes.
To her son, she passes down her muzzle (as Arrow's is longer than Cupid's), her build and her fur colour (which Arrow gets when becoming a teenager).
Unlike her husband and son, Arrow's mother doesn't have any speaking lines.
For reasons unknown, Arrow's mother does not accompany Cupid and Comet to Arrow after he is made winner of The Sleigh Race at The Junior Reindeer Games. This could mean that she may have passed away, was unable to attend the event or she was on her way to them and arrived after Zoey left after breaking up with Arrow because he cheated in the games and for his attitude towards Rudolph.
It is possible that Arrow isn't the only child this doe has, as at the Reindeer School, there is a doe in Mrs. Prancer's class who has a heart shaped marking on her forehead like Cupid.
It is unknown what Arrow's mother's option of Rudolph's nose was.
Community content is available under
CC-BY-SA
unless otherwise noted.